The September 30th deadline for applications is fast approaching…
As trustees, we are purposeful in our planning and seek ways to align with the Community Comprehensive Plan. We know that the funds do not meet all members' requirements or ideas. Still, we do our best to support as many applications as possible for all members no matter their location while maintaining accountability and feasibility for the community to the Trust. Careful considerations are made to those applications that share how the idea/project fits the community's current needs. Trustees work with inclusivity, calm, and a respectful tone that focuses on the mindfulness of our responsibility to the community as trustees. We practice at each step of the process.
We are aware writing an application can be stressful and that applicants may write in a way to get a "yes." We wish for you to understand that is not the intention of the Trust. We humbly honor each application, and the time you will take to share your ideas and goals.
>> Download the proposal application.<<
INTRODUCING: the Ga-naadamaagoo ji-gshki'oziyin – Good Life Application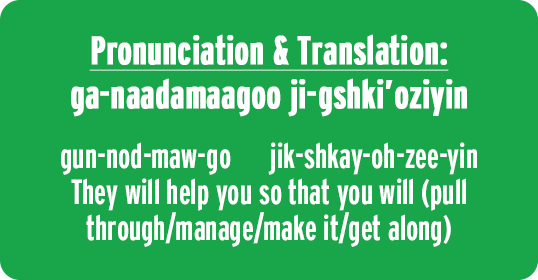 Edkaagmik Nbiizh Neyaashiinigamiingninwag Edbendaagzijig Trust (ENNET) sets out to support "Ga-naadamaagoo ji-gshki'oziyin" of our community members, no matter their location. We do this by inviting you to walk the good path.
We recognize a good life many times is the small things in life that support the values of humility and physical and mental wellness.
We invite you to think and act on our traditional ways of knowing and being, steward resources, take what you need, and leave some for others/future generations. We encourage moving from the western perspective of taking what you think you can get or depleting funds for personal gain.
One request per beneficiary, per year, to support needs in real-time. Example: Soccer camp, running shoes, regalia making, ceremony travel support etc.