Introducing Innovation 7
We have hired Innovation 7 to carry out an evaluation of the Edkaagmik Nbiizh Neyaashiinigamiingninwag Edbendaagzijig Trust (Coldwater Trust) following an RFP issued last year.  Find out more:   ENNETCommunityUpdateMarch2021
---
Request for Proposals: The Edkaagmik Nbiizh Neyaashiinigamiingninwag Edbendaagzijig Trust is seeking quotes from individuals or organizations to conduct an evaluation of ENNET since its inception. Accepting applications. Due February 11, 2021
---
2020 Application Posted DUE SEPTEMBER 18: 
2020NawashHandbook-Version-May29
2020NawashApplication-VersionFINAL
---
2020 Handbook and Application will be released fall 2020. In the meantime, the Trust is supporting, through Chief and Council:
COVID RELIEF HOUSEHOLD SUPPORT
---
Please Join Us – AGM June 18 (see below register by emailing corporate trustee)
On behalf of the Trustees of the Coldwater Trust, we are currently working with Chief & Council on providing funding to support households both on and off reserve to assist during the pandemic.  The support will be in the form of a gift card. Please stay tuned for further details in the near future.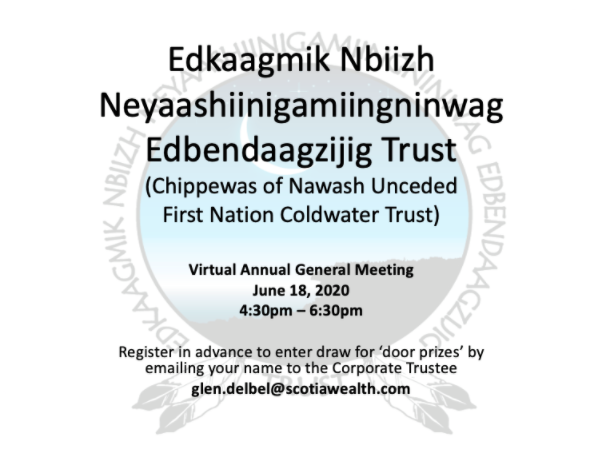 NawashCommunityUpdate2020-final
Please contact any Trustee to find out when the next meeting is. Minutes are posted on line.